Arada is the largest UK manufacturer of stoves, with a 30 year heritage rooted in rural Devon. We have the following Arada Stoves on display in our showroom;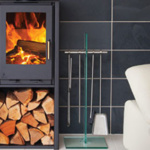 Aarrow i400 Freestanding stove – Black with pewter door
Aarrow Ecoburn Plus 5 on logstore
Aarrow Ecoburn Plus 11 (under live fire)
Arada has three brands of stove, Villager catering for the budget conscious purchaser, Aarrow is aimed at the mid to upper end of the market, and Stratford, specialising in boiler models.
Whilst we can get hold of Villager and Stratford models we are concentrating on Aarrow models in our showroom.
Aarrow models range from the usual freestanding models, together with inset stoves and modern cassette models.  The best selling Ecoburn Plus range are multifuel stoves available in a range of sizes from 4.5kW to 11kW and feature a lifetime guarantee.  Standard features across most ranges include pre-heated airwash to keep the glass clean and a range of logstores and stands to enhance options.