Di Lusso Stoves
Di Lusso is the premier brand of the UK manufacturer Hunter Stoves.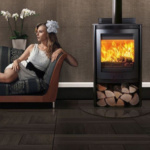 Despite their Italian sounding name they are designed and manufactured in the UK.  The main reason we decided to add Di Lusso to the range of stoves we sell is the superb controllability of the fires.  They burn very efficiently across the whole output range, allowing for slow but clean combustion.
Available as both freestanding and inset versions, they can be specified with a DEFRA kit allowing woodburning in smoke control areas, and all models can be used with a Direct Air kit if required.
Another unusual feature is the minimalist design, cleverly concealing the air controls behind the discreet centrally positioned door handle.  There are no protruding handles or control knobs on this range of stoves, just sleek, efficient design.
The unique Di Lusso Dynamic Control technology was developed to create a range of convector fires that can burn effectively and efficiently at both low and high temperatures – something no other fire on the market can do – ensuring that whatever size your room, big or small, there is a Di Lusso stove to suit your needs.
This innovative thinking combined with the sleek, stylish look of the Di Lusso stoves range makes this one of the most sought-after fires available. Sitting flush to the wall or freestanding and offering beautifully clear viewing glass, the Di Lusso fits effortlessly into your home, bringing any room alive with the beauty of natural flame.
Pop into the showroom to see the Di Lusso range for yourself or browse their website here.