Ortal contemporary gas fires are state-of-the art, room sealed, live fuel effect appliances which are available in a wide range of spectacular formats for use on natural gas or LPG.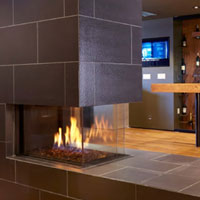 Ortal format styles include front facing, corner, three sided, space creator (peninsular), tunnel, standalone, island. Custom versions are also available.
Special Ortal features include reflective interiors to enhance the flame picture, dual line burners allowing control of output without loss of flame effect and protective mesh or double glazing options for added safety.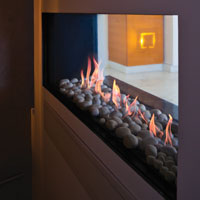 The concentric natural draught balanced flue systems can terminate vertically or horizontally and can accommodate a wide range of configurations.
Fan assistance is also available to further increase the range of flue options and make the fires ideal for installation in apartments for example.
Control is via a convenient remote handset which also incorporates timer and thermostat.
The product range comprises 77 different standard formats but in addition to this, Ortal are able to produce custom-made fires to incredible bespoke specifications (up to 5 metres long).
Architects and interior designers in particular are appreciating the benefits of large format gas and the fact that it is possible to design rooms around an impressive feature fire.