Founded in Odense in 1978, Scan have focused on delivering a perfect flame enclosed in a design-conscious piece of furniture.  Most Scan stoves are designed to be used freestanding and to be viewed from 3 sides.  Primarily designed in steel, they incorporate black edged glass and soapstone to create unique stoves for discerning clients.  Manufactured in Denmark, they have total control over raw materials and production and the finished products quality.
Now part of the Jotul Group, they continue to operate as a distinct brand with a unique identity and style.
Our showroom features eight of their inset fires and stoves.  Trim and accessories may differ from those shown in the photos here.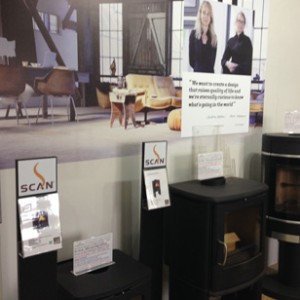 Visit the manufacturers website here.