Stuv are a very well regarded Belgium company designing and manufacturing a range of top end woodburning insert fires and stoves.  Their range includes the STUV 21, built in Stuv stoves featuring retractable "guillotine" style doors and large heat outputs, available in different sizes and even double sided options.  Under live fire in our showrooms we also have the STUV 30.  It is a freestanding revolving stove with a unique 3-door system to allow the end user to operate it as a open fire, normal stove or overnight burning stove.
Jetmaster make woodburning open fires, wood stoves and multi-fuel stoves.  Best known for their extensive range of open convector fires,  they have branched out into glass fronted appliances with an impressive range of product.  Built-in cassette stoves and modern freestanding stoves form the mainstay of their collection, all featuring minimum clutter and clean simple lines with removeable handles and single air controls.  Jetmaster is also the UK distributor for STUV stoves.
There are five Jetmaster stoves with four STUV models also available to view at the showroom; the Jetmaster 18q and STUV 30 (3 in 1) are both live.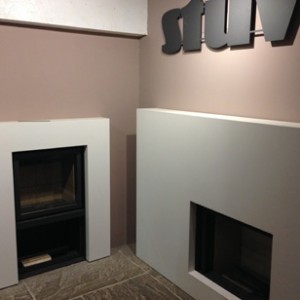 Stuv models on display;
Jetmaster models on display;
Visit the manufacturers website here.