Electric stoves are a relatively new branch of the stove business and are generally steel or cast iron boxes with an electric effect mounted  into them with a fan heater underneath.  The flame effect is not usually as realistic as the wood or gas burning versions although some models are now using LEDs which is improving the overall effect.
Electric stoves are the ultimate in convenience, just plug in, set the required temperature and then sit back and relax!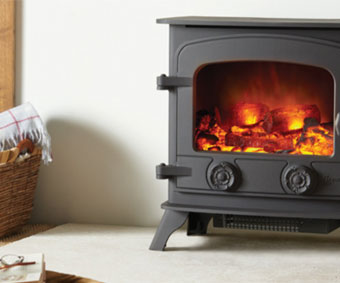 If you are looking for a stove centrepiece for your living room, bedroom kitchen but don't want the inconvenience of cleaning up ash or stocking up on logs an LED electric stove might be just the thing you're looking for.  Warmth and a welcoming glow without the industrial look of many electric heaters or radiators, electric stoves are available to view in our showroom.