Commonly attached magnetically to the stove pipe coming off the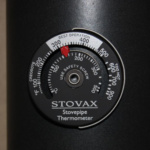 top of the stove (not suitable for stainless steel flues).  This clever little dial indicates the approximate temperature of the flue gases leaving the stove.  It indicates the 'Optimum Burn Range' to allow the stove to be burnt efficiently.
At lower temperatures, creosote and tar will form, whilst higher temperatures reduce efficiency and life expectancy of the firebricks/chamber linings.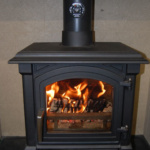 Whilst purists might think it visually clutters a minimal setting, inexperienced stove users would certainly benefit from one.
An alternative version is offered for installations where the stove pipe is not available (built in stoves etc) and the dial can be fixed to the stove body, and it has been calibrated accordingly.
J DAY STONEWORKS EXPERTS RATING – 4/5 Useful for most stove owners