Sovereign Stone Mantels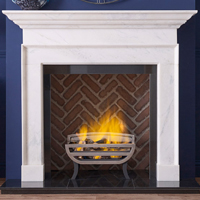 Sovereign Stone's company vision is "to manufacture and supply beautiful, eclectically designed fireplaces to the highest quality standards using natural materials".
Part of Capital Fireplaces, The Sovereign Stone selection comes from some of the most famous quarries in Europe and the Mediterranean.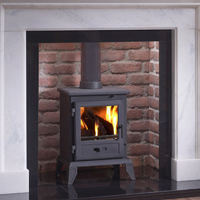 The Sovereign mantel range has been designed specifically to complement certain room sizes, certain fireplaces and certain fireplace openings.
The mantels are substantial in proportions and generous in the use of material whilst being versatile in application. They suit large rooms with high ceilings and rooms that can accommodate an imposing mantel.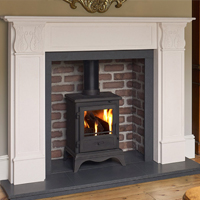 Each mantel offers a 36"x36" fire opening and they naturally combine well when used with stoves, large solid fuel baskets and large landscape gas fires as the interior feature.
The Sovereign mantel range has three distinct stone material options, each with different qualities to offer you a wide individual buying choice.  Sovereign Stone mantels are available in a choice of three natural materials:
Umbrian limestone that is unique to one quarry in Iberia and in a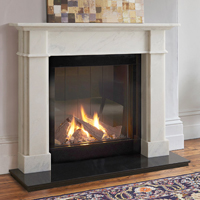 honed finish offers a homely rustic feel. Varying natural movement and veining make it perfect for a natural country house look.
The honed Agean limestone presents a cleaner, more consistent colour.
The Sovereign Venetian marble is of the finest quality. With its highly polished finish and striking appearance, marble of this quality has been the classical designer's choice since Renaissance times. Full of natural movement and colour variance this stone provides a completely unique and stunning period fireplace.
For more information pop into the show room to see the mantels for yourself or visit the Sovereign website.