Floating Fireplace Beams
Beams offer the benefits of a mantel in a sleek and contemporary way.  J Day Stoneworks offer beams from Capital Fireplaces, Focus Fireplaces and Newman Fireplaces so there's a huge range of colours, sizes and finishes to choose from.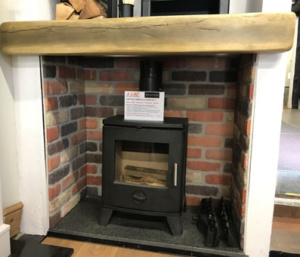 Whether you're looking for a minimalist floating beam to style a modern fireplace or a traditional barn timber full of character we can help.
Depending on your stove or fireplace layout there are a few building regulations to bear in mind when selecting your beam.  It's important to make sure that there is at least 450mm or 18 inches between the top of your stove and anything combustible if your stove projects from the front of your fireplace.
Resin based products are available if you're looking for something non-combustible, or if your stove is tucked underneath your chimney without protruding into the room there are a wide range of solid wood options to consider*.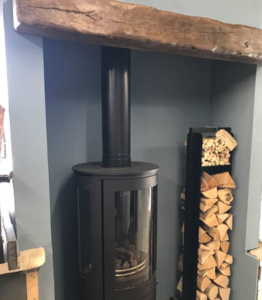 Capital Fireplaces, Focus Fireplaces and Newman Fireplaces have budget and mid-range beams on offer, with prices starting from £210. Focus beams are available from 917mm up to 3 metres wide so you can choose the perfect width for your room.
We have a variety of beams on display in our Colney Heath showroom, and a range of brochures for you to take away.  There are also a wide range of shelves and fascia plates available in store.
Mix or match your Decor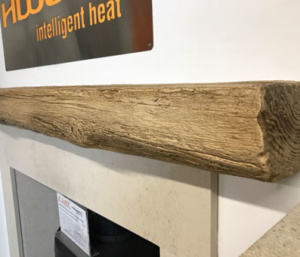 Bright or light colours pair well with bleached wooden beams, with darker, richer shades working well with velvets or leather interiors. Sharp, clean cut beams offer a modern look with distressed oak finishes available for a more characterful interior.
*It's always a good idea to consult your stove installer to make sure your beam adheres to building regulations for your property.